This is the freebies page. For our commercial sample sets, please visit their respective page via the Products page. Click on the links to download or right-click and "save target as".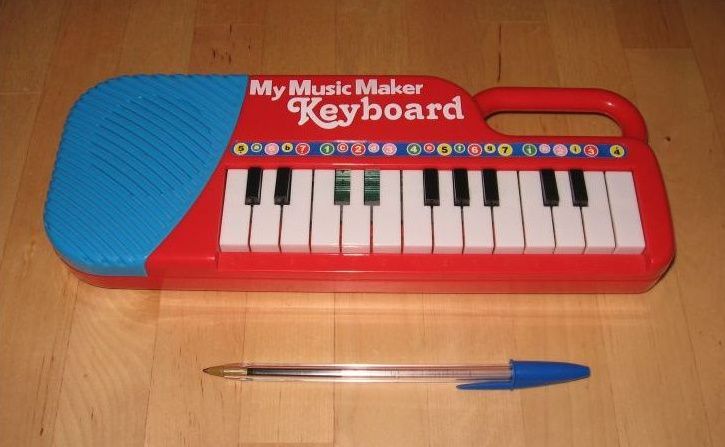 _____________________________________
Various Stuff
Mixed and Silly for Kontakt 4.2 or better (full version, not the player). It combines the Mixed Kit and the Silly sample set. Both contain the wav files and the Silly set also includes the soundfont version : Mixed and Silly
Silly Kit for EG Pulse, a subset of the above, can be downloaded directly to an iPad : Silly Kit
Flight of Canada Geese on the Internet Archive
My Music Maker toy keyboard (wav, soundfont, sfz, Kontakt 3), details and photo in file: MyMusic Maker
No Name Toy Keyboard (wav, soundfont, Kontakt 3), details and photo in file: No Name Keyboard
LoFi Kalimba (wav, soundfont, Native Instruments Battery 3/ Kontakt 3, NuSofting DK+): LoFi Kalimba
Smallest electronic keyboard (wav, soundfont, Kontakt 3), details and photo in file: Smallest Keyboard
NanoStudio 2 version, watch the demo video:
Emulator X2 bank that includes the 3 sets above, works in Proteus VX and X2: Zvon LoFi
Three kits for Synapse Audio Orion, designed for the DrumRack and each kit has 12 samples. The samples are from the Composite Bells, Julie Vocal FX 1 and the Prepared Rhodes Light and Clean.
2 sets of mechanical musical automatons, more info and photographs in the readme files. Both sets contain wave files: Wav files sfz format variations
Kits for FXpansion GURU (proprietary format): Sidekick kit, Zvon 296 and Prepared Rhodes LC with edits by Steve Duda
Kits for FXpansion Geist, visit the FXpansion Geist forum to download them.
Presets bank for AnaMark 2.20 (optimized by Mark Henning), no samples in here.
Free pack 01 56 waveforms and 105 presets for rs-met Straightliner
16 sample based patches for KarmaFX synth
_____________________________________
More stuff:
Also visit our page on Kara-Moon for more freebies.
_____________________________________


_____________________________________
© 2004 - 2015 Les Productions Zvon, all rights reserved