JULIE Resynth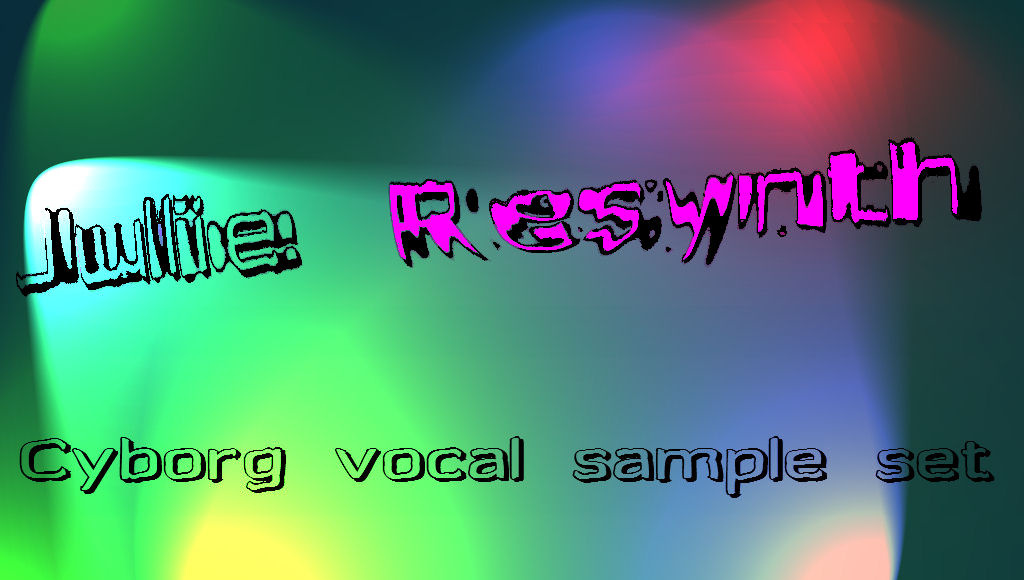 _____________________________________
A fun cyborg vocal sample set, half human and half robot!
This set is based on samples of the voice of Julie who is already featured in our 3 other Julie Collections. But this time the samples are resynthesized to create new ones that are playable chromatically across the keyboard. This means that melodies and chords can be played contrary to the previous collections that are made of one-shot samples.
In most cases, the actual flavor and tone of Julie's voice are preserved in the resynthesized samples within her natural range and the notes outside of it sound good too. In all cases, the original variations (pitch and volume) of the vocal samples are preserved with their natural irregularities.
Of course when resynthesizing, some of the original sound is either lost or transformed and further modifications can be added but for this set I tried to stay the closest that I could to the original most of the time. None of the samples are looped and most are rather short but a few are over 3 seconds long.
This is not a classic vocal library with choirs (for instance none of the samples are looped), nor is it a synthesized/ vocoding sample set. It's an hybrid that retains the flavor of Julie's voice while delivering new original sounds suitable for keyboard playing and melodies.
It contains 38 programs/waveforms and they are all multi-sampled. There are 1,149 samples.

Names of the programs/waveforms
Baah
Clavlike
La
Aah 1
Aah 2
Aah 3 long
Aah 4 long
Aah short
Aouw 1
Aouw 2 long
Blaah
Boop
Too (vel)
Kong
Ow
Ow 2
Ow 3
Dey
Teep
Doo
Doo long
Toop
Dap
Hey ooh
Heyey
Too
Too long
Tuu
Tuu long
Ooh FX
Hey 1 FX
Hey 2 FX
Hey 1 short FX
Hey 2 short FX
Perc 01
Perc 02 (vel)
Perc breathy (vel)
What's in a name
Available in the following formats:
1- Wave files, soundfont, sfz (68.9 MB each, download is 47 MB each)
2- Wusikstation V5.6.2 or better sfz format with 73 presets.
3- Native Instruments Kontakt 3 with 68 instruments (single instruments and mutlis)
Demo soundsets: soundfont Kontakt 3 sfz and Wusikstation 5.6.2 or better
_____________________________________
MP3 DEMOS
Demos are dry and made in a regular soundfont player. All are one track, dry and only one program is used.
MP3 made in Cakewalk Rapture: Aah 1 fifths
One program arpeggiated real time. Sounds like a cross between a synth and a voice: Fantasy
Wusikstation and Kontakt 3 presets demos, All are one track, no external processing, only one preset used.
Antique Aah 02 (WS only) Combo 01 wide FX Detuned Too Bossa Wseq Angel Rhythm (WS only)
Jesus Joy of Man's Desiring (J. S. Bach) with three different sounds common to both the Kontakt 3 and Wusikstation versions with added reverb: Bach Jesus
_____________________________________
Get all the above formats for one price:
$ 7.50 US :
Note that the package above does not include the BeatMaker 2, Thumbjam and smaller soundfont versions that are on the Sounds for iPad and iPhone page, nor the Caustic 2 version.
Don't forget to check our other Julie Collections HERE
_____________________________________
There will be no refunds, so please try the demos before buying. All products are downloadable.
If you live in Canada the appropriate sales taxes will be automatically added to your order.
© 2006, 2009 Les Productions Zvon, all rights reserved