____________________________________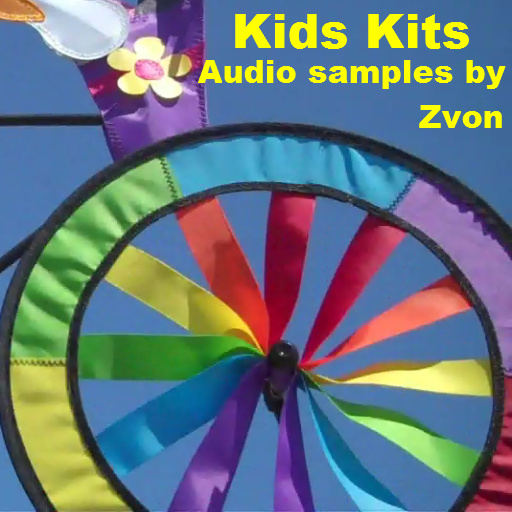 ____________________________________
259 samples, 23.8 MB
The samples in this set are taken from a recording I made with two young children, a little girl (3 years old) and a little boy (5 years old). They were very happy to sing, talk and make funny noises in the microphone. I selected 136 unique one-shot samples from this session and further split some of the longer ones so there are 259 samples in total. These also include 13 interesting noise samples. All the samples are fun as they are but don't hesitate to mangle them.
This set is available in the following formats and all are included in a single purchase: Caustic 2 (Android, BlackBerry PlayBook, Win), wave, sfz, Native Instruments Kontakt 3.5 and Battery 3. Note that the full version of Kontakt 3.5 (or better) is required, not the free Kontakt player.
Click on these links to get more info: Caustic 2 (PDF) Kontakt and other formats (PDF) installation notes (PDF) Complete list of samples (text file)
The set is also available on Google Play!
Note that the Caustic version of this set is not yet in the new causticpack format for Caustic 3. This means that even if it works with Caustic 3, the files have to be installed manually.

Download the demo, of 41 samples: Demo all formats
_____________________________________
All formats included for $2.99
us
_____________________________________
MP3 demos
Twenty of these samples were first released in 2005 and here's a track that Liqih from NUSofting made then. He kindly allowed me to use it. Beside the Kids samples used for the back vocals, the DK+ beat box kit, Combo Sister organ (both from NuSofting) and SaxLab (LinPlug) VSTis are used: The Dub Kids
3 bars loop made in NanoStudio (iOS), drums and synths are from its factory content: Kids in NanoStudio
Track of the video below slightly rearranged: The Groovin Kids
Demo in Caustic 2
More MP3 examples and videos will be posted soon!
_____________________________________
More sounds for Caustic 2 are available HERE
_________________________________________
There will be no refunds, so please try the demos before buying. After we received confirmation of your payment, we will email you the link or links where you can download your products. This will usually be within one business day.
If you live in Canada the appropriate sales taxes will be automatically added to your order.
Comments and questions are welcome.

© 2013 Les Productions Zvon, all rights reserved