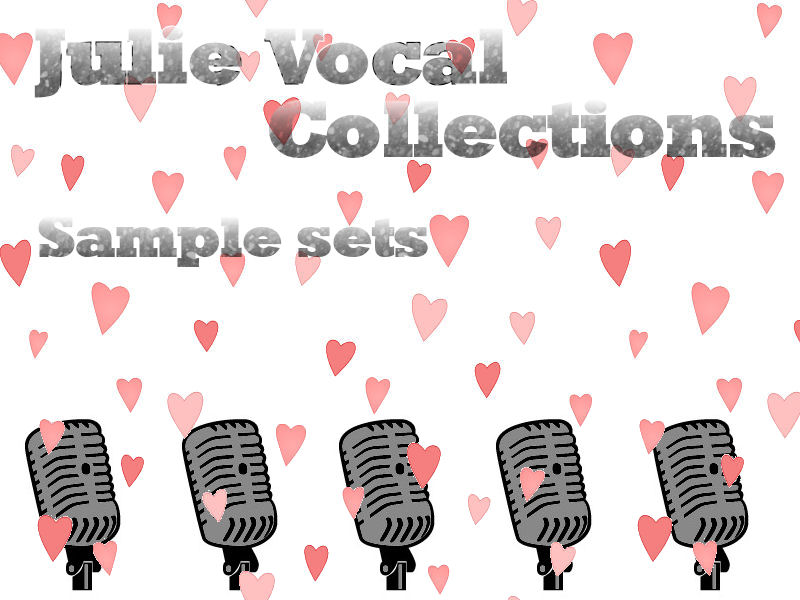 This page is dedicated to various sample sets made from the voice of Julie, a Montreal's professional jazz singer. Her voice is beautiful and very expressive. Add a jazzy flavor to your compositions with her voice, also suitable for other styles of music.
___________________________________
Julie's Vocal FX volume 2 collection
A lot more vocal FX for you and your music or soundtracks. There are 754 samples for 50 MB and they cover a lot of ground, from laughs, cries, funny sounds, various vocals to percussive noises to special vocal FX. Those samples are well suited for various uses, like adding a vocal flavor to any music, create unique percussion tracks and soundtrack design. Read the complete list of the samples included HERE
Note that this collection is not meant to be played chromatically on a keyboard. Some samples may work for that but there are no complete scales in this collection. None of the samples are looped. All wave files.
___________________________________
Julie's Scat collection

A beautiful collection of scat singing, includes complete scat phrases, sliced phrases and shorter sounds so you can build your own phrases. The full set has 341 samples for 27.8 MB. This is not a multi-sampled collection, it's made of one-shot samples like the Julie's Vocal FX collection. List of the samples included HERE
___________________________________
Julie's Vocal FX vol. 1 collection
There are 140 samples for 11.6 MB and they range from scats to percussive noises to special vocal FX and they can be used in any sampler.
This first release is mapped like a drum kit, meaning there's one different sample per key. It is still possible to play some melodies as some samples are scaled and grouped together. Beware though that the note heard does not necessarily correspond to the key pressed.
___________________________________
Three sets bundle,
$ 19.99 US!
Download the demo of the bundle HERE, all one-shot wav files.
Please email us if you have questions.
Don't forget to check out the Julie Resynth set, HERE
Also available on Sampleism HERE.
___________________________________
MP3 Demos
Missed Valentine A little joke using only samples from Julie's Vocal FX without any processing.
Julie's having fun in the Nebula Unprocessed scat singing samples and heavily processed samples in the M42 Nebula. All the scat samples are included the Julie's vocal FX collection.
Julie's having fun in the Wusikstation Little oddity of a wavesequence in the Wusikstation, once again using only the samples of Julie's Vocal FX.
mn Zvon demo Made by mn, it features our Wusikstation soundsets: 2 instances of Julie's Vocal FX, 1 of the Zvon Horn vol.1, 1 of the Prepared Rhodes (Java Bass), only the drums are not from us. The Julie's Vocal FX can be reproduced with our other formats of it, not so for the Zvon Horn and the Prepared Rhodes as they use presets unique the Wusikstation format.
Four 1 bar loops repeated made in Psychic Modulation's Cortex drum sampler, using the pitch modulation sliders: Zap, Cat, Cat and scream, Trumpet imitation
Funky Fun Rock freestyle A very cool track made by Liqih. It features samples from Julie's Vocal FX and the following: bass- NUSofting Pizza Synth, drums- NUSofting DK+ Pop 90 patterns, synth- Dash Signature EVE, chugga wahgga guitar- NUSofting microrock pro, clap- sample by xoxos. You can visit Liqih and his nice synths here: http://liqihsynth.com
A fun short track by Peter Huboi: Vocal Sequence 1
JULIE'S VOCAL FX vol. 2:
Julie's Vocal FX 2 Odd rhythm track made with only samples from this collection, no external processing.
Julie with Bass A short loop repeated 3 times. 4 vocal samples and one bass sample, done in FXpansion Guru using its pitch graph to vary the pitch of the samples.
Julie in S16 Short loop repeated 5 times made with Boxsounds freeware step sequencer S16.
Unofficial Julie It's the result of a mistake. I had two samples assigned at the same time for every key and I randomly pressed some keys. This is not great music but I think it's fun to listen to.
Two tracks by Rainer Hilgers, both combining samples from Vocal FX 1 and 2:
-Mobile ringtone for female vocals, bass, drums: Zap
-For vocals, Chinese percussion, bs.clarinet, xylophon, clockwork and breath samples: Vertical Timescape
JULIE'S Scats Collection:
Audioscapist sent me this short cool track: Summer City
No processing, no trick and in fact no composing at all. I just pressed 3 or 4 keys at the same time in Vsampler with the Scats collection loaded. HERE
Two examples of vocal lines that can be achieved: Example 1, Example 2 (soft)
Drums, bass and piano tracks from "I'm Walking, Cakewalking", a GM MIDI file included with Sonar 3. For the instruments, I have deliberately kept the tracks as they were with a basic GM soundset to show how some quality samples can spice up a track. The Julie samples are completely dry, no processing. Julie's Cakewalking
This one is a bit strange, a disarticulated tribal jazz beat with Julie: Disarticulated Julie
___________________________________
Contact us if you have any questions or comments.

© 2004, 2005 Les Productions Zvon, all rights reserved