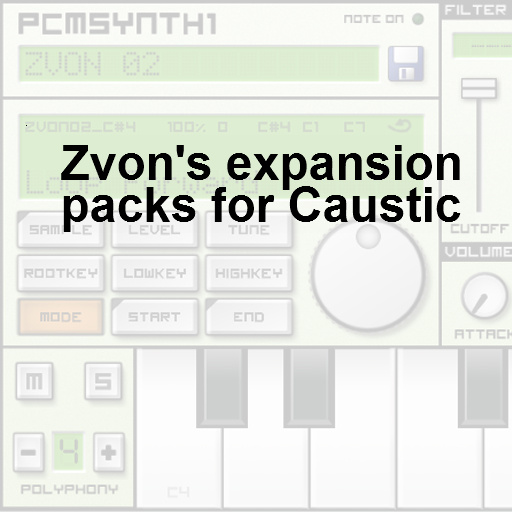 All my Caustic expansion packs can either be downloaded or bought from this page or from Google Play.

If you get them from Google Play, they will be installed automatically to your Android device. If you get them from this page, you will have to copy the files manually to either your Android device, computer or PlayBook. The same files work on the three platforms.

They also can be bought all at once as a bundle on this page, see bottom of page.

_______________________________________________________________

Welcome to our Caustic 2 page! Here you will find sample based instruments and kits for Caustic 2 both free and commercial. I am not sure yet how this page and its content will evolve over time and it will be updated regularly so visit often.

To begin with, I did 2 PCMsynth instruments that are included in the factory content of Caustic 2, Zvon 02 and Zvon Doo. Both are made with a resynthesized looped sample, a speech synthesizer for Zvon 02 and a female voice for Zvon Doo. They have a sound that reminds me of the Mellotron.

- Free pack 01: 4 PCMsynth instruments and 2 Beatbox kits. If you like the sounds in it, visit the pages of the source sample packs but note that they DO NOT contain other presets/instruments for Caustic: Out There (Beatbox), Memory Collections (Mini MC1) and Reed Organs (Supertone LITE). But they all include the wav files, and the Out There set soundfonts too, that can be imported in Caustic 2.

- Free Pack 02: 2 different sets of quirky and fun sounds, the Mini MC2 kits and the Mechanical Musical Automatons for a total of 12 PCMsynths presets and 4 Beatbox kits.

Download the 2 packs bundle HERE.

-

Single Cycle waveforms free pack

:

30 single cycle waveforms and 63 presets for the PCMSynth of Caustic.

Even if these waveforms can be used as is, they take a new dimension when shaped with the PCMSynth controls.

I have added

3 simple example presets.

Users who want to share their creations are welcome to send them to me and I will make them available on our website.

This pack is not an APK and it has to be installed manually

.
Download it HERE View the PDF documentation HERE

______________________________________________________________

- Chromatic Hits for Caustic: 49 instruments for the PCMsynth that can be used as tuned or semi-tuned percussions. All instruments have 4 samples per octave and most cover at least 6 octaves. For more info, view or download the PDF HERE. The set is in 3 volumes that are sold as a bundle for the BlackBerry PlayBook©:

1- Mix: 27 instruments covering a range of different timbres.
2- Metal: 13 metallic sounding instruments.
3- Cymbals: 9 resynthesized acoustic cymbals/hi-hats.

Before buying you can download and try the DEMO pack. Note that the demo has 2 of the regular full chromatic instruments: Hard hit 02 (T) and Metal 01 (T) and 4 other files that are not chromatic instruments, for these I have instead regrouped on successive keys 2 or 3 samples of each of the 47 other chromatic instruments to allow you to preview all the sounds. The samples of a given instrument in these 4 demo files are 2 octaves apart (but on successive keys) to give a good idea of how it sounds in the full version. Of course this means that in the 4 demo files, the pitch heard does not correspond to the note and the octave played. View the complete PDF of the demo HERE.



Buy it for $4.00 US:

_______________________________________________________________

- Square Wave: 13 PCMsynth presets and 2 Beatbox kits.

The hardware electronic keyboard sampled here is a digital square wave instrument. I don't know exactly how old it is but my guess is that it's at least 20 years old. It has 12 chromatic sounds, bass and 5 percussion sounds: kick, conga, snare, cymbal and hi-hat. All these do not sound like the acoustic instruments they're named after but more like the Sid chip, 80's and early 90's video games. Very good retro sounds for chip music (or chiptune).

View or download the PDF HERE. Download the DEMO pack.

Buy it for $1.50 US:

_______________________________________________________________

- Prepared EP: The free demo pack has 16 samples, 16 PCMSynth presets and 4 Beatbox kits. The paid pack adds 63 samples, 53 presets and 25 kits for a combined total of 79 samples, 69 PCMSynth presets and 29 Beatbox kits. Both must be installed to have the complete content.

View or download the PDF HERE. Download the DEMO pack.

The sampled instrument is a real Rhodes electric piano that was prepared as John Cage and others prepared an acoustic piano. That means inserting springs, plastic tubes, pins, all kinds of objects inside the piano. These objects when touching the strings or the tines change the sound of each key played. All the notes can be radically different from each other and often the original sound is not even recognizable. The result is an instrument that is much more percussive in nature.

Buy it for $1.99 US:

___________________________________________________________

- Baby Piano (toy piano): The Baby Piano is a Chinese Toy Piano. I found it at a flea market and it obviously has seen better days. There are 2 keys missing, its casing is worn out and there are loose parts in it. The sound is not even from one key to another partly because the mechanism of some keys is damaged and it's also not in tune.

It's nonetheless lovely and its sound begged to be sampled. I did not stop there and I also made unique resynthesized sounds from the original samples. The Caustic version is optimized for the PCMSynth from the regular computer version. The paid pack adds 9 PCMSynth presets to the 5 of the demo for a combined total of 14. All are multi-sampled.

Both must be installed to have the complete content.

View or download the PDF HERE. Download the DEMO pack.

Buy it for $0.99 US:

_____________________________________________________________

- Julie Resynth: A fun cyborg vocal sample set, half human and half robot!

This pack is based on one-shot samples of the voice of Julie, a Montreal jazz singer. But here the samples are resynthesized to create new ones that are playable chromatically across the keyboard.

View or download the PDF HERE. Download the DEMO pack.

Buy it for $1.50 US:


The more extensive computer version (wav, soundfont, sfz and Native Instruments Kontakt 3) is HERE.

_____________________________________________________________

- Marching Band Horn: The exact name of this instrument is unknown. It uses a French horn mouthpiece and the range is a little lower than a trumpet and a little higher than a trombone. To make most of the instruments in this set I played single notes and resynthesized them to create multi-samples. In all cases the resulting tone is still very brassy and close to the natural one.

For more info, view or download the PDF HERE. Download the DEMO pack.

The demo has 7 PCMSynth instruments and the full version adds 30 for a total of 37 instruments. Most are multi-sampled. Both the demo and the full pack must be installed to have the complete content.

Buy it for $1.30 US:

_____________________________________________________________

- Acoustic Guitar

: A simple, good sounding multi-sampled acoustic guitar bank for the PCMSynth.

The guitar had steel strings and was played with a pick. Recorded with 3 different microphones simultaneously: a condenser, a ribbon and a guitar pickup.

The notes are not as even and perfect as in many sophisticated guitar libraries. Here's a comment Rej (Caustic's developer) made about it, the capitals are his:
"On the other hand, after having done a test pattern, it sounds VERY natural, probably because of these imperfections... For me, it's really cool to have something that sounds so natural... it's a REAL recording of an imperfect instrument."

View or download the PDF HERE.

Buy it for $1.30 US:

MP3 examples with the patterns used in the video:

Four chords, first with the condenser mic set, followed by the ribbon mic set and the pickup set, Chords reverb - patterns ribbon mic dry - condenser with chorus, delay and reverb - with overdrive - pickup overdrive.

All FXs are from Caustic.

_____________________________________________________________

Or get all the above expansion packs for $9.99 US (instead of $12.58):

Watch the demo videos on YouTube HERE.

_____________________________________

Please note that when you buy sample sets from our website, downloads are not automatic. After we received confirmation of your payment, we will email you the link or links where you can download your products. This will usually be within one business day.


_____________________________________

BlackBerry PlayBook© is a trademark of BlackBerry.

Visit our forum on KVRaudio.


Comments and questions are welcome.



© 2012 Les Productions Zvon, all rights reserved