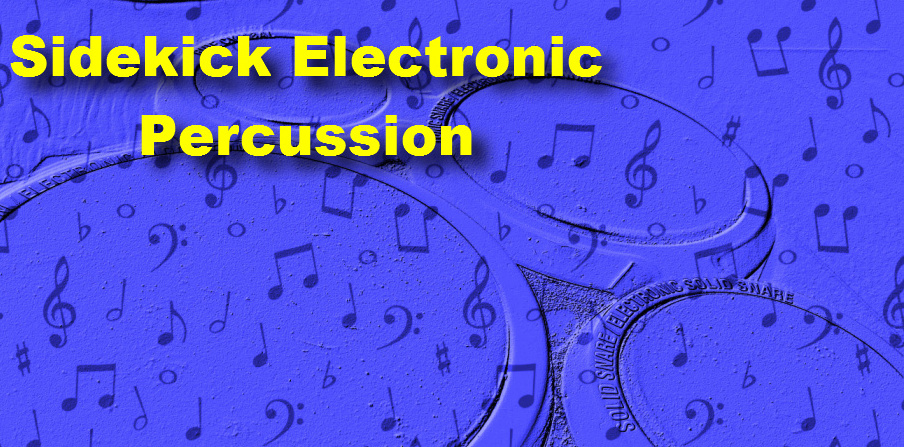 Read the rekkerd.org review HERE
____________________________________
I wanted to create percussions that not only would sound great and offer versatility when sequencing. But that would also be fun to play in realtime on a keyboard or a drum pad with the velocity layers. I am very happy with the results. I named it Sidekick because it is a great add-on to any acoustic or electronic drums/percussions kits. Even though it features plenty of kick drums, some snares and toms, the bulk of this set is made of original and unique percussive sounds and FX.
There are 285 sounds (41 MB) including 152 with velocity layers (from 2 to 8, average 4 or 5) for a total of 809 samples. All were created with various softsynths.
Get the demos: wav files with kits for DR-008, DK+ and RMIV soundfont
Kontakt 3/Battery 3, also includes the wav files
Here are some MP3 examples of real time playing showcasing the possibilities offered by the velocity layers. Each one uses only one sound played at different velocities. Not really great music but they do demonstrate well what can be achieved with the velocity layers:
Bell Weird Kick dist rev Metallic 03 Perc 02 Seq 01 Snare 05
More MP3s: only samples from the set, no processing loop 1, loop 2, loop 3
Short loop made with Boxsounds freeware step sequencer S16. Four samples used, on almost every step, each sample is either transposed, reversed or panned differently from the previous step: loop 4
Excerpt from the rekkerd review: "The Sidekick instruments ... have a special kind of velocity layers. Many of the instruments have completely different sounds for the same note, depending on the note velocity, which feels a bit weird at first but is actually of lot of fun."
It is available in soundfont, Kontakt 3, Battery 3 and wav file formats. Kits for FXpansion DR-008, LinPlug RM4 and NUSofting DK+ drum machines are included with the wav files.
_____________________________________
Soundfont + Kontakt 3 + Battery 3 + wave files and kits: $ 7.99 US :
_____________________________________
There will be no refunds, so please try the demos before buying. All products are downloadable. After we received confirmation of your payment, we will email you the link or links where you can download your products. This will usually be within one business day.
If you live in Canada the appropriate sales taxes will be automatically added to your order.

© 2004, 2005 Les Productions Zvon, all rights reserved