Reed Organs sample set
_________________________________________
Overview:
- 4 different Reed Chord Organs: Bontempi B3, Magnus 360, MicrOrgan and Supertone. The last 2 are rare models.
- Recorded with different microphones (except the Bontempi). Relative levels of the notes are preserved.
- 477 looped samples for a size of 316 MB.
- Available in Kontakt 3.5, Kontakt 4 and sfz formats. Kontakt versions have 72 instruments and multis made with the original samples and 26 instruments using the tone or time machine engines, custom skins and scripts (2 scripts for K4 and 1 for K3.5). Also the Kontakt versions include instruments with original tuning of the instruments and retuned instruments. The sfz version has 27 definition files.
- These organs are very noisy with their fan. All the notes have been carefully denoised to limit the noise while keeping the original sound but I have sampled the noise and you can put it back if you desire to. The chords have not been denoised.
I bought all these organs at a local flea market and all had seen better days. But that's part of their charm!
For more information, view or download the documentation (PDF) HERE
Complete list of the programs is HERE
Available in wave, sfz and Native Instruments Kontakt 3.5 or better formats. Listen to the MP3 demos below. the free Supertone VSTi (Windows only) on our Software page.
_________________________________________
Available for £7.99 (includes all formats) from
Sampleism
.

Please email us if you have questions.
_________________________________________
MP3 demos
Natural sound dry: MicrOrgan 4 layers MicrOrgan shotgun closed MicrOrgan closed_Jingle Bells
MicrOrgan combi RND (Kontakt) MicrOrgan open
Supertone with operating noises Random Bass extended (Kontakt)
Frère Jacques (Bontempi not tuned with Magnus chords)
And a good way to compare the sound of the MicrOrgan with the trapdoors open and closed, the same Bach MIDI file with each set: Art of the Fugue closed Art of the Fugue open
Natural sounds with chorus and reverb (Kontakt only): MicrOrgan 4 layers MicrOrgan Frère Jacques
Supertone Ext_Magnus 594 (contact mic)
2 instances of the Combi Bontempi Mayhem (not tuned and tuned layered), one instance has a short delay and the other with chorus:

pattern
Transformed sounds (Kontakt only): Mean Electro (Bach choral) Big Air + Brassorgan Industrial 2
Big Air + Brassorgan (reverb)
Jingle Bells and Frère Jacques were step entered from the Bontempi fake book.
Bach MIDI files
used in the above demos are from the
Johann Sebastian Bach MIDI Page
.
The Kontakt FX script
was written by

Mario Krušelj

(EvilDragon) for this sample set.
_________________________________________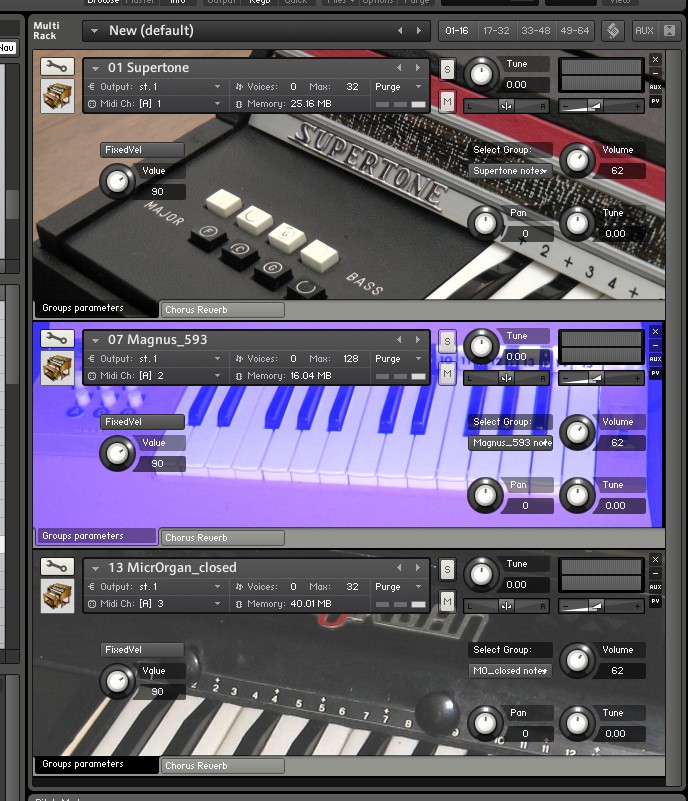 _________________________________________
Comments and questions are welcome.


© 2011 Les Productions Zvon, all rights reserved