Baby Piano
_________________________________________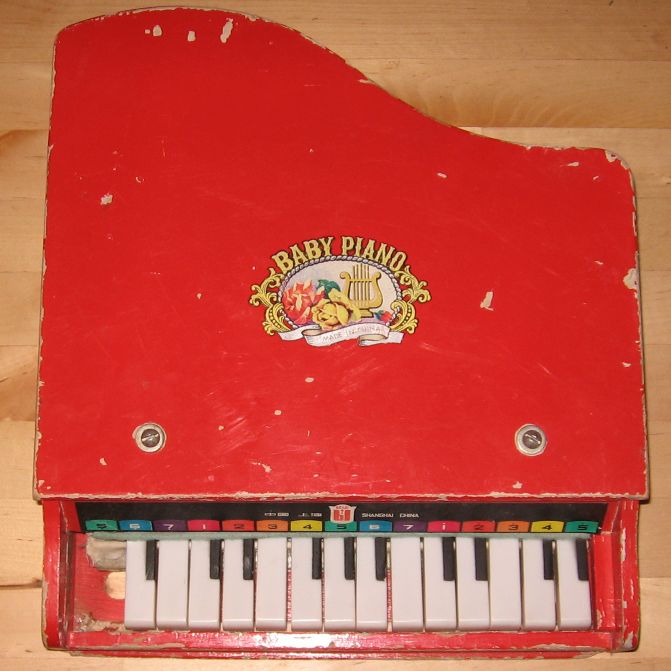 _________________________________________

"Baby Piano sounds exactly like you would expect: a broken, fragile sounding toy piano. It's a perfect example of how something one might consider to be trash can still be used to create some lovely instruments. I find it inspiring" from the Rekkerd review, read the full review HERE

The Baby Piano is a Chinese Toy Piano. I found it at a flea market and it obviously has seen better days. There are 2 keys missing, its casing is worn out and there are loose parts in it. The sound is not even from one key to another partly because the mechanism of some keys is damaged and it's also not in tune.

It's nonetheless lovely and its sound begged to be sampled. I did not stop there and I also created 15 unique resynthesized sounds from the original samples. These can be used as electric pianos, keys and/ or bells. This sample set is available in wav, sfz, soundfont and Kontakt 3 (or better, not the free player) formats.

- The

Baby Piano free

set contains the 14 keys but without velocity layers and 3 of the resynthesized sounds for a total of 4 programs/sounds (20.1 MB). It can be downloaded here, note that the wav files are in the Kontakt download and are needed for the sfz and Wusik V5 formats:
Soundfont Kontakt 3 (with wav files) sfz and Wusik

(wav in previous download)





Note that the soundfont will play nicely with the bs-16i and Gestrument apps on iPad.


Check out the free VSTi version (Windows) on our Software page.

Use the button below to buy the

Baby Piano standard

that contains 3 more programs for the acoustic samples and 8 more resynthesized sounds for a total of 18 programs and 12 sounds (86.3 MB) and an extra set, the

Baby Bells

. This extra set has 4 more sounds resynthesized from the acoustic samples and 9 programs (123 MB). They sound like a cross between an electric piano and bells. They have long decays up to 15 seconds.



Buy it for $5.99 us (includes all formats)

:





Also available for £3.49 from

Sampleism

.




Please email us if you have questions.




_________________________________________

MP3 Demos

Baby Piano: Buzzpluck Sweet Tine Bell

The next 3 examples were made with styles from Synapse Audio Orion: Plucky Strong Buzz Sweep
Sweep, Sweet Tine and Bell layered, with phaser added (multi): Layers 01



_________________________________________

There will be no refunds, so please try the demos before buying. All products are downloadable. After we received confirmation of your payment, we will email you the link or links where you can download your products. This will usually be within one business day.

If you live in Canada the appropriate sales taxes will be automatically added to your order.

© 2009 Les Productions Zvon, all rights reserved